We've just sweetened our October offer – automatically get 60% off CDs* and gain entry to our Halloween Shopping Spree contest (now with Free Shipping!) when you complete an order. The contest entry form will show up on the Thank You page after you complete your order.
No minimum spend limit! Buy a sticker pack for $5 for all we care, and get excellent odds to win. Gain an extra entry by signing up for our mailing list through the link in the entry form.
Contest ends October 31st at 3:00PM Eastern. At that point we'll run the drawing and we'll notify the winner in the evening.
Everyone worldwide is eligible to enter. The winner will get a $100 (Canadian) credit toward all CDs, to be used one time, plus Free Shipping up to the $100 purchase limit. We'll contact you for further details.
Look for this contest widget after you complete your order: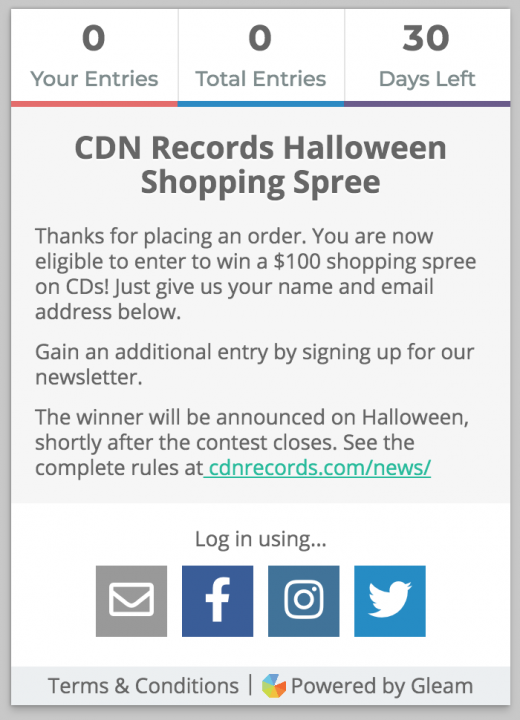 Note: If the contest widget fails to load, you may be using an aggressive ad blocker, script blocker or third-party cookie blocker. Check your browser and enable the gleam.io services.
We'll double-check each entry to make sure you've completed an order or joined the mailing list. Thanks for supporting CDN Records.
*An automatic 60% discount will be applied to products tagged CD, CD-EP, CD-R and Digi Pak CD. Excludes pre-orders, items on sale, and items tagged No Discounts. Discount ends Nov 1st, 2019.